Wonderful way to welcome the weekend!
What a terrible week for transport. Right off the heels of SMRT SVP's incredible
testimony
on why the Bukit Panjang Light Rail Transit (LRT) wasn't as 'up there' as one might think, and last night's (Aug. 17) evening peak disruption on the North-South Line (NSL) due to – what else – faults with the new signalling system, Singapore woke up this morning to another double tragedy:
Both SBST and SMRT put up their notices about Downtown Line (DTL) and NSL at about the same time, before 6.30am. Train services on the NSL were unavailable between Marina South Pier and Sembawang.
SMRT advised commuters to seek alternative transport or MRT lines if heading towards the city.
Signalling fault causes delays on North-South Line and Downtown Line during Friday morning peak hour
Commuters were hit by another round of train delays on the North-South Line & Downtown Line during Friday (Aug 18) morning's rush hour, following a 2-hour delay during the evening peak hour the day before.
The North-South Line saw a 3-hour delay while the Downtown Line was disrupted for about an hour.
At 6.30am, SMRT tweeted that an additional 45 minutes travelling time was needed between Marina South Pier & Sembawang on the North-South Line due to a signalling fault.
Bishan MRT station was a picture of chaos on Friday morning (Aug 18). Meandering lines at the taxi stand, warm bodies amassed at the bus stop, the air thick with frustration as irate passengers vented at SMRT staff on the ground & each other.
Small wonder. They were facing yet another breakdown in train services - this time, the North-South Line (NSL) that was dogged by signalling faults which started around 6.30am and took about 3 hours to resolve.
At the height of the service disruption, Bishan MRT station was overflowing with a sea of passengers who had tapped out - some after withstanding an hour-long ride from Ang Mo Kio, just one stop away - and others newly arrived & apprised of the situation.
AFTER YEARS OF BREAKDOWNS, SMRT STILL STRUGGLES TO SOLVE PROBLEMS PLAGUING NORTH-SOUTH LINE?
SMRT is struggling to pinpoint and rectify the cause of the signalling fault that is continuing to beset the NS Line. The hopeless PTO has posted two Twitter updates notifying commuters to "plan ahead" due to "longer traveling time."
[NSL]: Our engineers are working hard to continue their checks and investigations. Our staff is ready to assist.
[NSL]: If you intend to travel on the North-South Line later, pls plan ahead. You may experience longer train travel time.
PSLE Students Queue For 'Excuse Pass' After Train Breakdowns Make Them Late For Exams
While train faults have become so regular that it happens nearly every other day, the train breakdown on Friday (18 Aug) had more severe implications on a particular group of Singaporeans.
Primary 6 students who were heading to school to take their Primary School Leaving Examinations (PSLE) oral examinations were delayed from reaching school on time after train faults caused delays on the North-South Line (NSL) and the Downtown Line.
Commencing yesterday with the English oral examinations, Primary 6 students will be completing their Mother Tongue Oral examinations today.
Friday Morning Train Delay: Second Peak Hour Delay in Two Days due to Signalling Fault
MRT commuters were certainly a frustrated bunch this morning (oh, tell us about it…). At about 6.30am, SMRT informed commuters that an additional 45 minutes travelling time would be needed on the North-South Line between Marina South Pier and Sembawang.
The cause – signalling fault. SMRT later advised commuters to take other MRT lines or other forms of transport if they were heading to the city.
The Downtown line was also hit.
Train Delays, Commuters Khaw-Beh-Khaw-Boo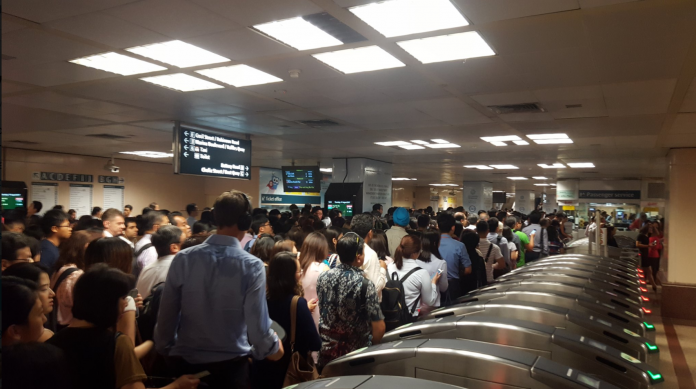 There was much ado about our transport system that it almost felt like we were watching reality TV yesterday. And it's not just the Lee family feud that is gripping this nation's headlines, Khaw managed to step into the limelight this week, sharing the #1 spot.
I have lost track of the number of train breakdowns in recent weeks – from trains up in smoke to signalling delays, to faulty supervision systems, to commuters falling onto the tracks – there is an entire smorgasbord of things that can go wrong should you ever decide to take the train.
Our transport minister, Khaw Boon Wan, on the other hand blames the main stream media for hyping it. He has in fact been drumming into our heads that the train system is three times more reliable and that the state-run-media has gone tabloid.
DTL and NSL affected by signalling fault on Friday morning
Commuters were met with yet another service breakdown on Friday morning (18 Aug) since the service disruption along North South Line during the Thursday evening rush hour.
At 6.29am, SMRT announced that commuters are to expect 30 minutes of additional travelling time between Sembawang and Marina South Pier stations due to a new signalling system fault near Ang Mo Kio. The same location where the signal fault responsible for yesterday's service disruption allegedly occurred.
Even up till 8.30am, the fault has not been rectified and delays in service remained at 30 minutes.